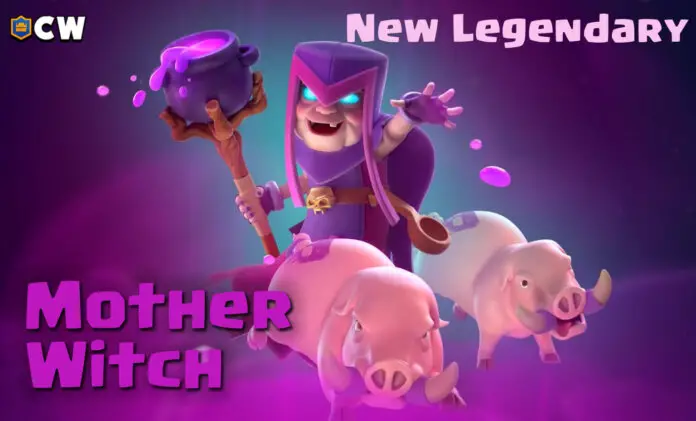 Hey there! I'm Krux here, back again with some refreshing holiday breeze and an exciting article on Clash Royale. As you already have heard a thing or two about the new card which was announced last Friday, we will be talking about it here. She is the Mother Witch. Mother Witch is the newest legendary card which will be added to Clash Royale with the start of the Season 18 Logmas in the game i.e, December 07. There have been a lot of exciting updates to the game in the last few months and this one is clearly one of those. New cards make everyone interested, who is Mother Witch? What's the deal? Will it make good decks? And most importantly, should I use it?
Let's dive in and find out everything that you need to know about the Mother Witch in Clash Royale.
Mother Witch Intro and Stats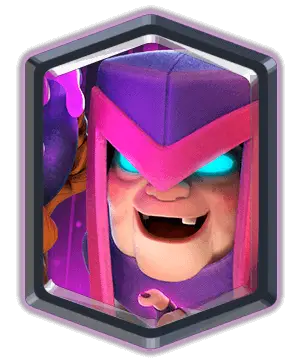 This is how the card looks in-game in the deck section. The intro of Mother Witch goes like:
"Places a curse on enemy troops with each attack. When a cursed troop is destroyed, it turns into a building-targeting Hog that fights alongside the Mother Witch. She also bakes great cookies."
The intro sums up how she attacks in two sentences and also gives an idea about her hobbies when she is not battling in the arena.
Mother Witch is a legendary card which costs 4 elixir to deploy. She targets a single enemy and has a medium-range of 5.5. She has moderate hitpoints of 560 at level 9. Each attack by her does the damage of 96 and the attack speed is 1.2 seconds. So the damage per second is 80 for the card. What makes the Mother Witch different from other cards is the 'curse' she places with each of the attacks. The effect duration is 5.5 seconds for the curse.
| | |
| --- | --- |
| Range | 5.5 |
| Speed | Medium |
| Hit Speed | 1.2 seconds |
| Deploy Time | 1 second |
| Curse effect duration | 5 seconds |
| Target | Air and Ground |
| Hitpoints | 560 |
| Damage | 96 |
When a troop is killed by the Mother Witch, it turns into a Hog. The cursed Hog runs towards the enemy towers like a normal Hog. There is no limit and she can spawn as many Hogs as many troops she kills. The Hogs spawned have different hitpoints and stats from a normal Hog which is deployed in Royal Hogs.
Cursed Hog stats: The cursed hogs have hitpoints equal to 520 and are short-range. They attack only buildings and damage 44 with each attack. The Cursed Hogs have a tattoo on their rear which distinguishes them from innocent Hogs. Very smooth!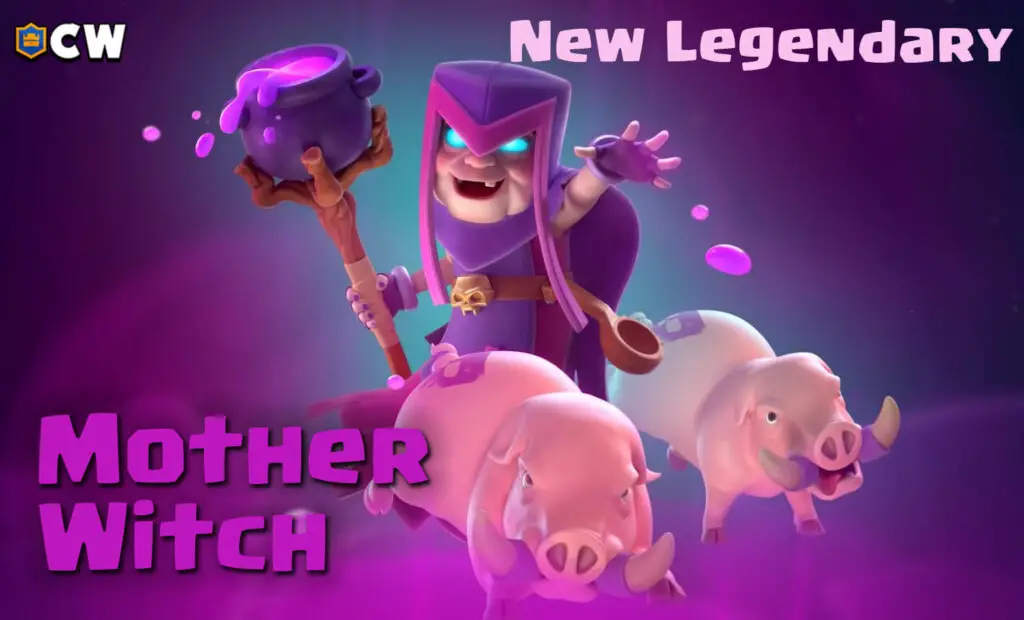 Mother Witch in the Arena
Mother Witch will be good against swarms such as Skeleton Army, Minions, Graveyard etc. These cards have low hitpoint troops which are killed in one attack and will spawn a Cursed Hogs, so a lot of Cursed hogs for these. She has a somewhat fast attack speed and can easily take them out and curse all of them to produce a huge crowd of Cursed Hogs.
Mother Witch is a good defensive card and support for big tanks when pushing for the enemy tower. The offensive potential is weak for the card as it won't be able to take out heavy enemies and even if she does, only one Hog is spawned after that. Using it as a wise defence or support will let her take out multiple enemies from behind and consequently making the push bigger.
People have been trying the new card as a support in various decks. This card as support is being tried as support for Golem decks, Elixir golem decks. You have a broad idea about how to use the new legendary card of Clash Royale. The card will be unlocked by completing the Season 18 Logmas challenges. If you can't get it in challenges, it will be unlocked in chests after Season 18 ends.
A lot of experimentation is to be done and we will soon find out where the Mother Witch fits best and which decks are the ones which you should use the next season to dominate the arena. And we will surely bring you the guides to make it easier for you. Stay tuned for the best Clash Royale related articles, updates, and deck guides. Clash On!