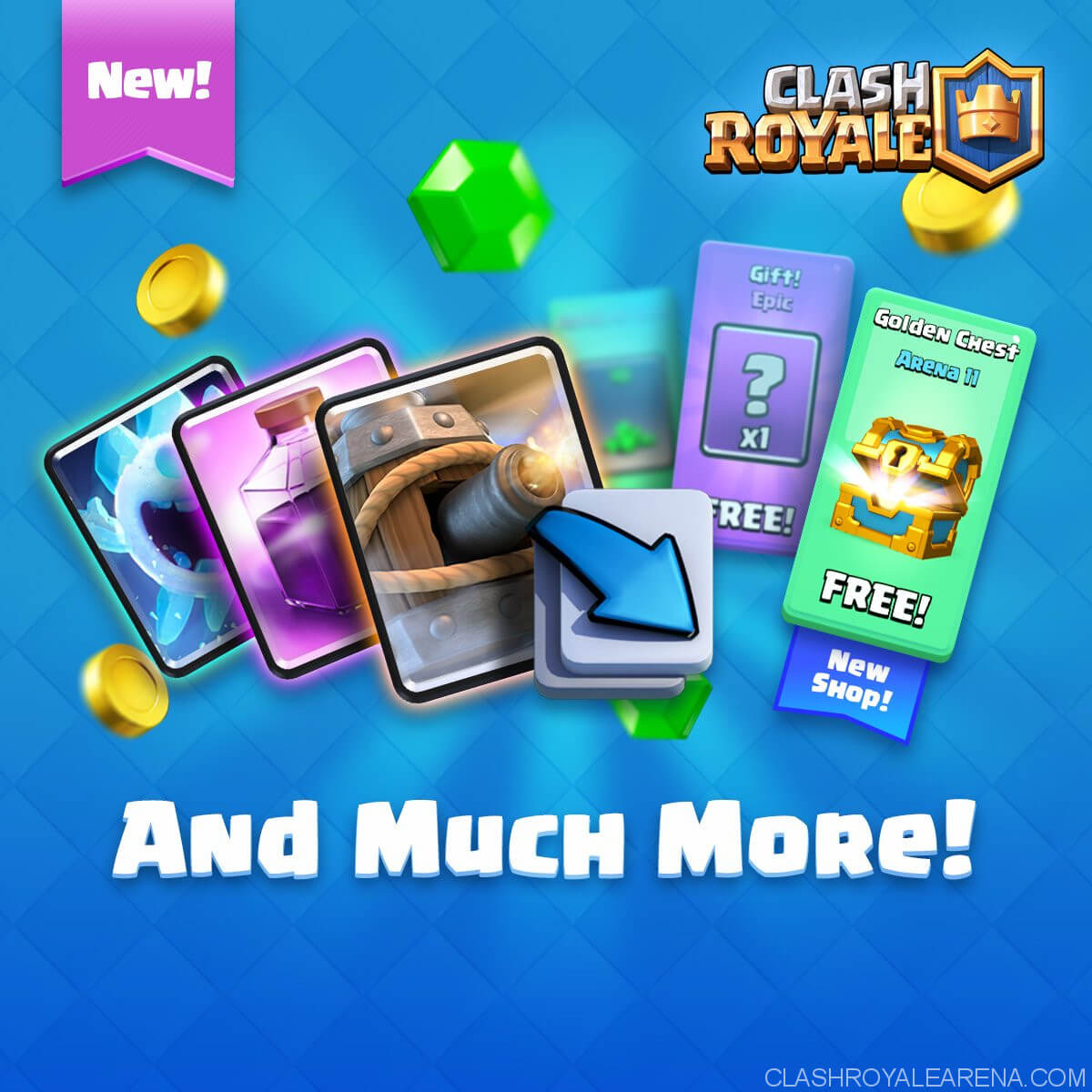 We are going to have a revamped in this huge Clash Royale October update!
Want to see more about it? Let's go!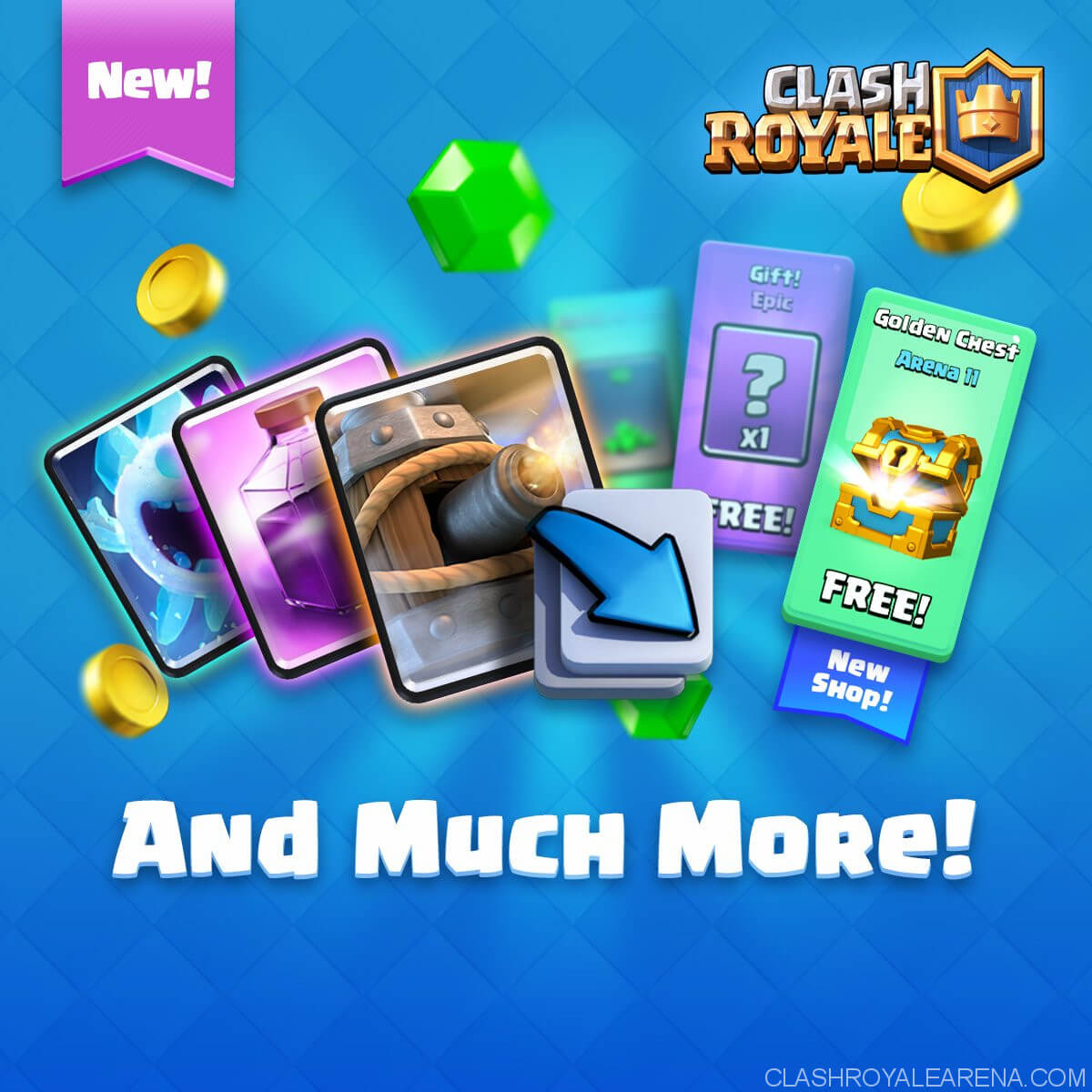 Free Gold, Cards and Gems
I want to talk about this first since we all love free stuffs, right?
Every day, you will have a chance to get free 200 Gold, 10 Gems, Silver Chest, Gold Chest etc. And on every Sunday, you can get an Epic card from the shop for free (It's Epic Sunday guys, of course!)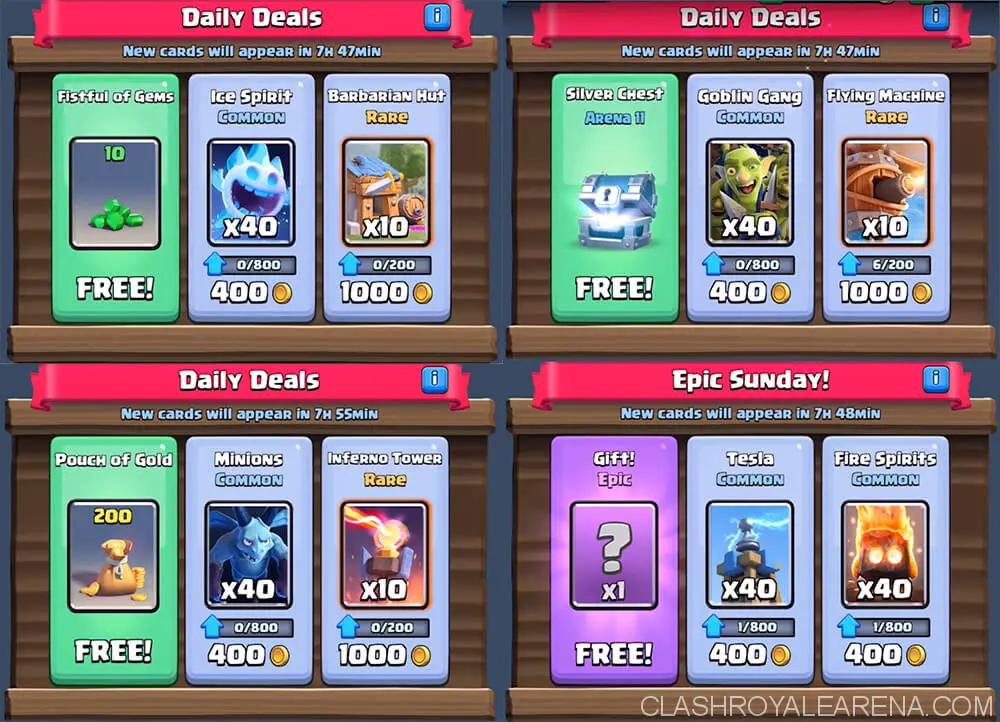 Sometimes you have this free offer. Sometimes you don't. Sometimes you get free Gold but sometimes you get free Gems. It varies but we will find out the order soon!
New Card Prices
The card prices are changed a bit but not really.
From now Common Card now costs 100 Gold each. However, it's consistent. Which means, If you purchase even 100 cards, the last card's price is still 400 Gold.
The price is not doubled as before.
1 Common Card = 100 Gold.
1 Rare = 100 Gold
1 Epic = 1,000 Gold
1 Legendary = 40,000 Gold
600 Gold = 20 Gems
And a lot more offers.
If you want to purchase a shop slot, you need to buy all of the cards there.
For example, as you can see in the screenshot above, you can't buy 1 Inferno Tower for 100 Gold. You need to buy all of those 10 for 1,000 Gold.
This is truly a lot better shop than before since you can max out cards a lot easier. Instead of buy 1-2 cards every day, you can just save up Gold and buy a bunch later.
For insane, before, you need 3,000 Gold to buy 2 Golems at once but now it takes only 2000 Gold. If you want to buy 2 Golems with the price at 1,000 each, you will need to wait until 2049 to see Golem in the shop again.
Fact: Sometimes, there are slots which require you to buy with Gems. Seems not okay, but actually this gives you more value than turning Gems to Gold then buying them.
Read more about the October update at here!