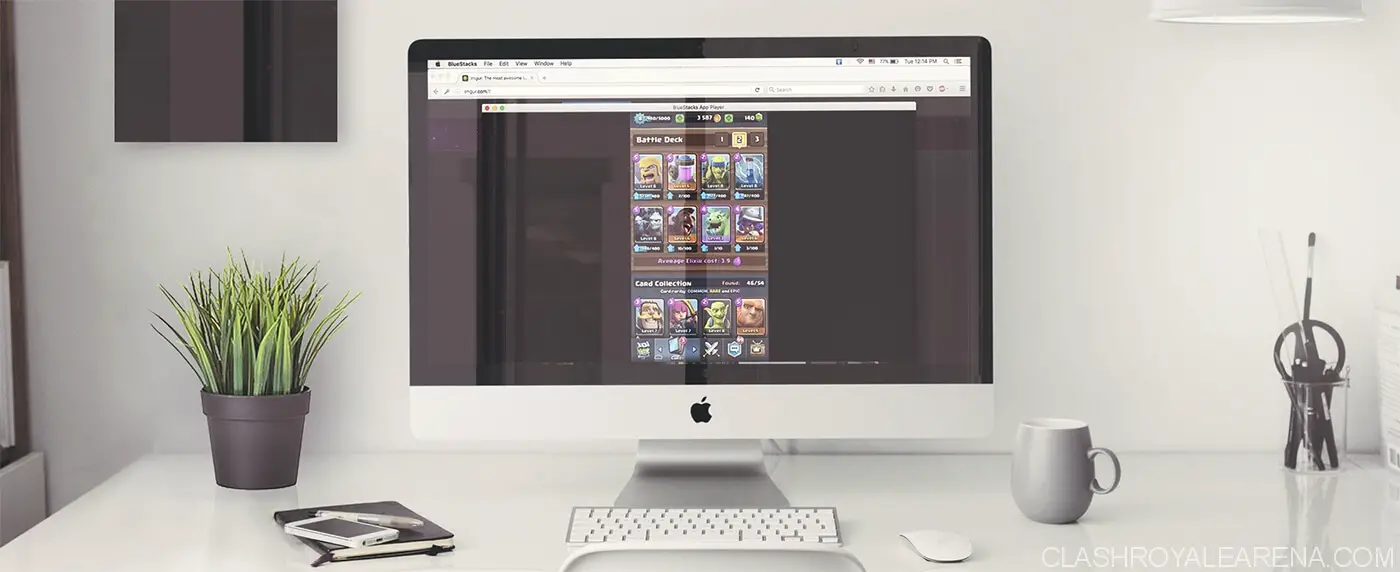 I have been receiving loads of request from visitors asking the easiest way to download and install Clash Royale Mac.
Today, I am going to show you some of the best ways to play this stunning video games on your Mac devices (Macbook Pro, Macbook Air, iMac,…)
At the moment, this method is working well with almost any version of Mac! Just ensure your device has more than 2GB of RAM and you will be fine!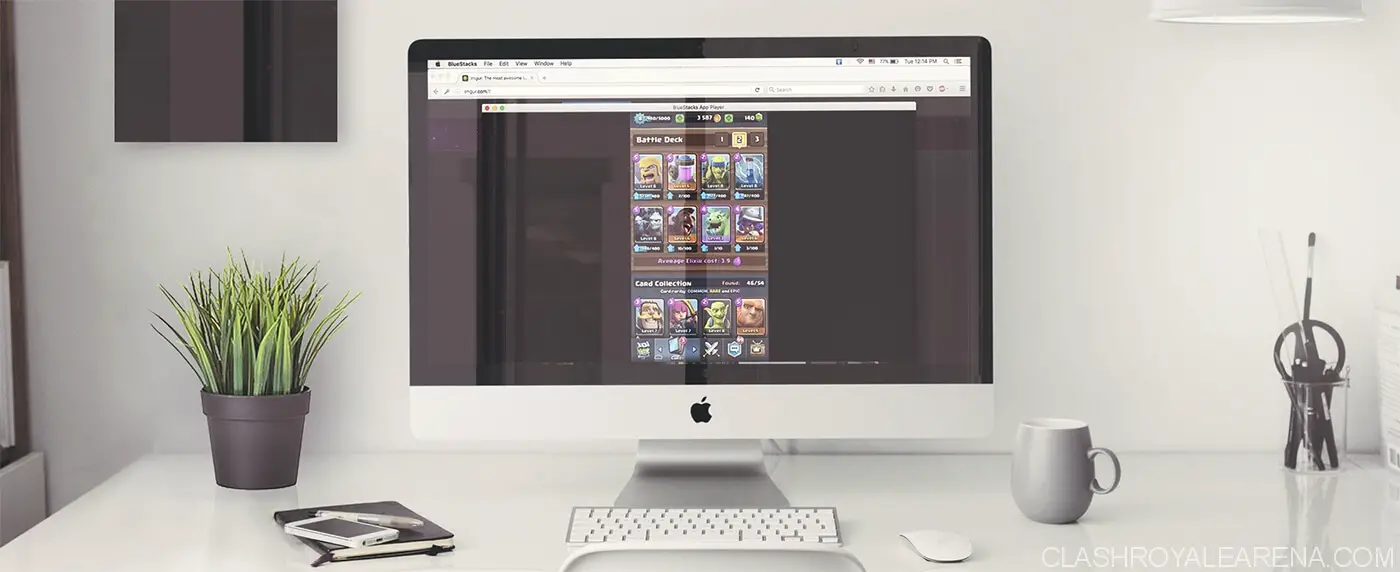 In this tutorial, I am going to introduce to you an outstanding Android Emulator which is working extremely well on almost any Mac OS X version. It is called Bluestacks. This software is pretty popular so I think a lot of players have heard about it.
Why do I choose Bluestacks?
I know that there are couples of great Android emulators out there for Mac but they are either unstable or hard-to-use. I had used use some emulators in the past before I heard about Bluestacks but they had loads of problems for casual users. Some of them even didn't support Google Play and I had to install Google Play manually, which didn't work smoothly at all!
Bluestacks is a super-easy-to-use Emulator as you just need to download and run it, nothing else!
There isn't any complex step during the install progress. It just takes you no more than a few minutes to finish everything.
Preparation:
A good Internet connection.
Download Bluestacks for your Mac from the button below!
A cup of coffee.
Okay, after finishing all 3 steps above, please follow my steps:
How to download and play Clash Royale Mac
After downloading, you can easily find the Clash Royale installer in your Downloads folder. Its name should be like this: BlueStacks-Installer_version.dmg
Double-click on the downloaded file to start installing Bluestacks!
Normally, MacOS may takes couples of seconds to verify the file:

If the system shows any box like this, simply press Open:

Then, click on the Continue button as shown

Then click Install to start installing the emulator:

Once the installing progress completed, open Bluestacks!
At the Bluestacks homescreen, click on the Orange Search button and simply search for Clash Royale then press enter. By doing this, you will be redirected to the download page of the game. Simply tap on the Download button to download the game then click at the Open button to start playing Clash Royale. Depending on your internet connection, this may this up to a few minutes.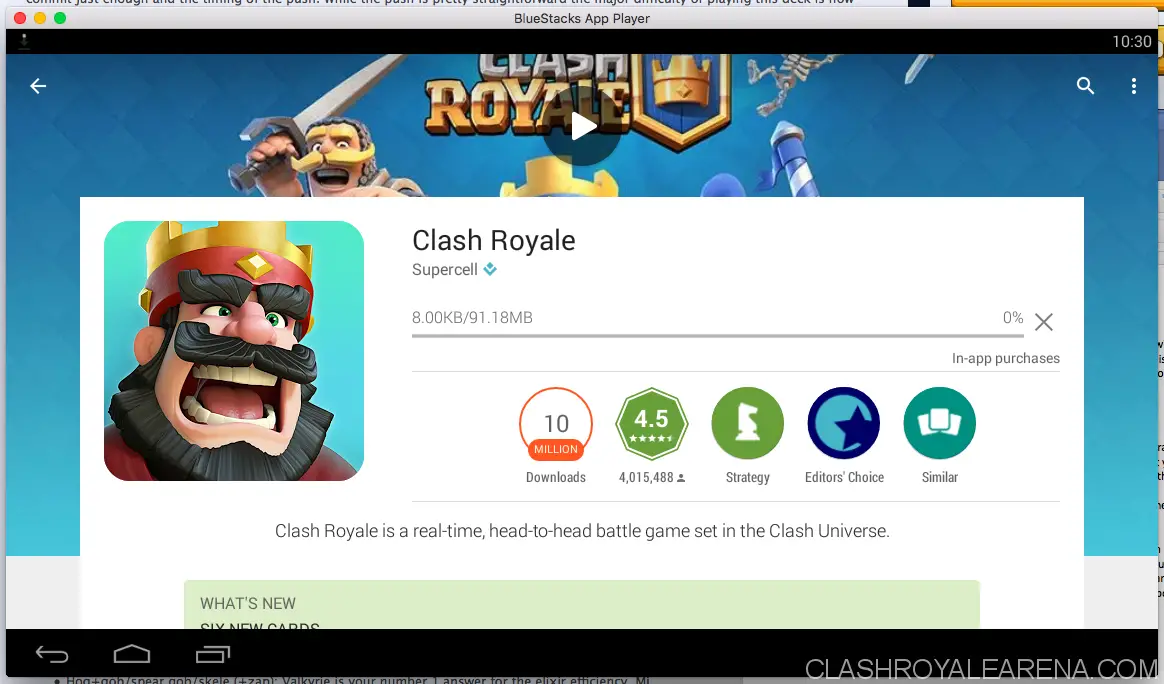 As you can see here, I could Clash Royale on my Mac without any problem after downloading the game.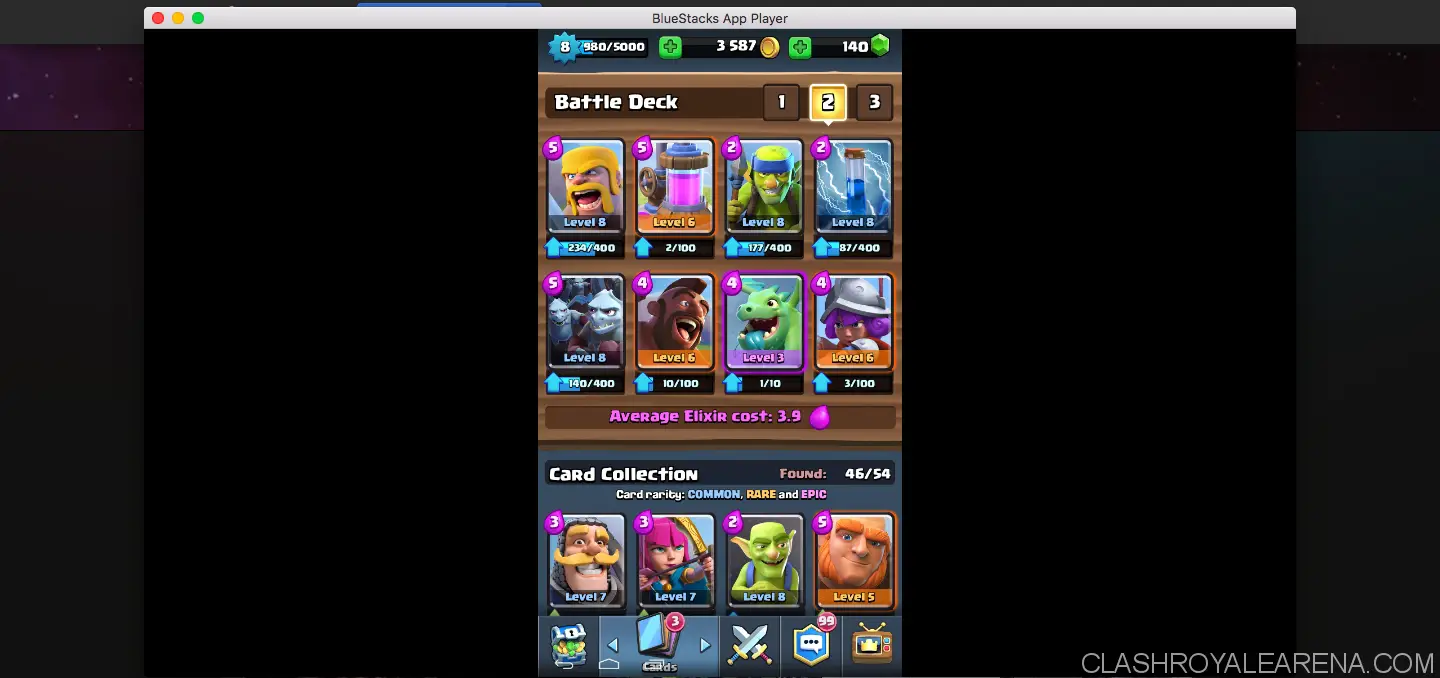 Frequently Asked Questions About Clash Royale Mac

While playing Clash Royale Mac using Bluestacks, you may face some of the problems below.
I have noted down some frequently asked questions from users using Bluestacks. So don't hesitate to comment If you have any unmentioned problem because maybe a lot of people have already faced it too.
What are the minimum System Requirements If I want to play Clash Royale on Mac?
You can play Clash Royale on most Mac devices so you don't need to worry about this too much! Just make sure your Mac has at least 2GB of RAM and 10GB free storage.
I can't find find Clash Royale in Google Play. There is something wrong here!

This is probably not because of Bluestacks. Google services are not available in some countries including China. No worries because there are so many other ways to download and play Clash Royale Mac. You can simply download the game form any other Android market, or you can download this apk file of Clash Royale then install it directly on Bluestacks.
I can't hear any sound…
First, check If you have turned off the sound of Bluestacks. Look at the right sidebar. If you didn't do that, simply reinstall the software. This usually fixes the problem right away.
I got this problem: Error retrieving information from server. [RH-01]
Please follow these steps to fix the problem:
Open the Google Play app, wait for a few seconds.
Press the Home button to return to your homescreen.
Go to the Settings Menu of your device → Applications → Manage Applications.
Go to the ALL tab then search for Google Play Store → Open it → Clear Cache → Force Stop.
Back → Open Google Services Framework → Clear Data → Force Stop.
Restart the device and everything should be okay now.
Updating….
If you have any question, please comment and I will do my best to help you out! Don't hesitate to ask me anything! I will answer every single question about playing Clash Royale on Mac devices!