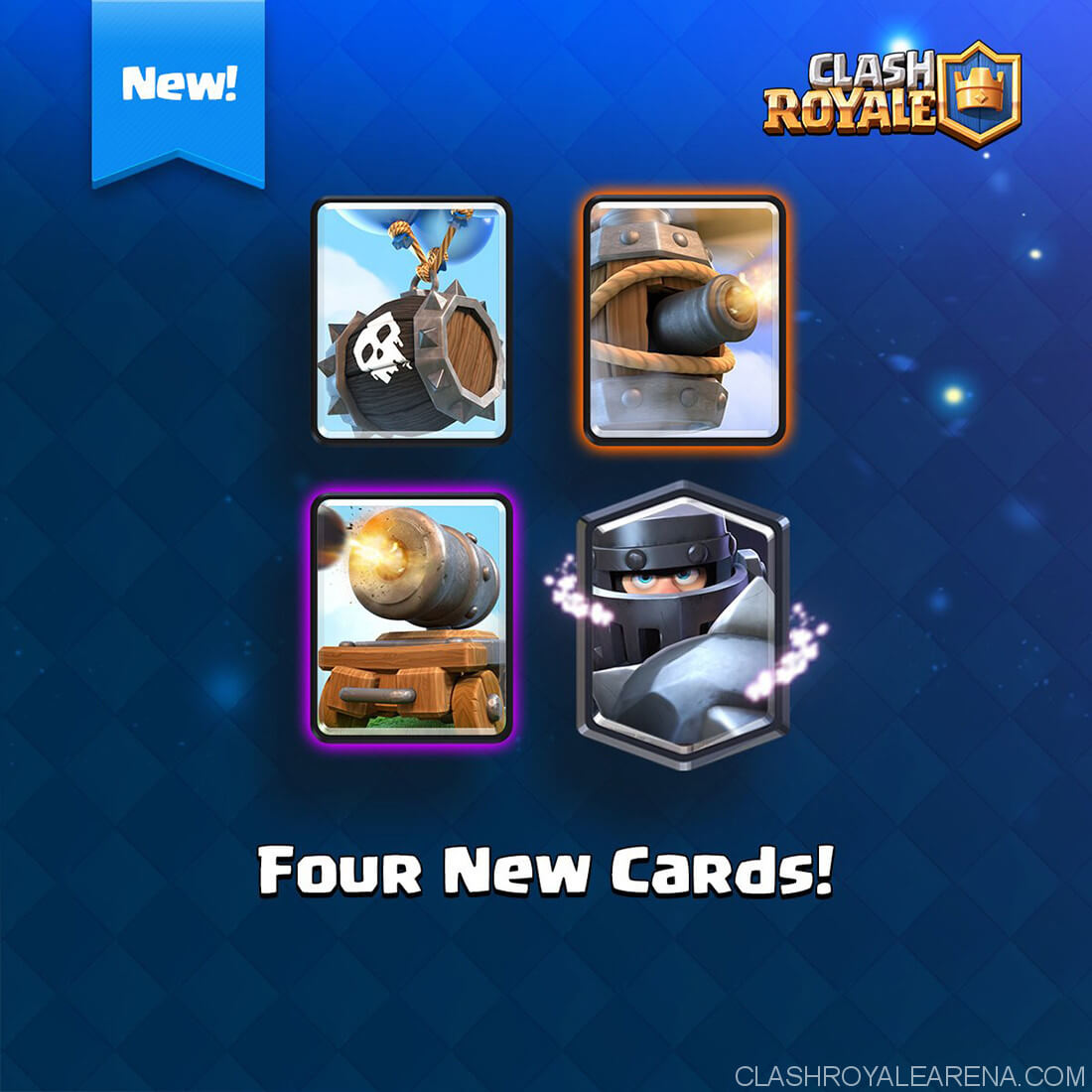 Super good new here guys! We are going to get 4 new cards in the upcoming Clash Royale June update: Mega Knight, Cannon Cart, Flying Machine and Skeleton Barrel.
Is this real life? Yes!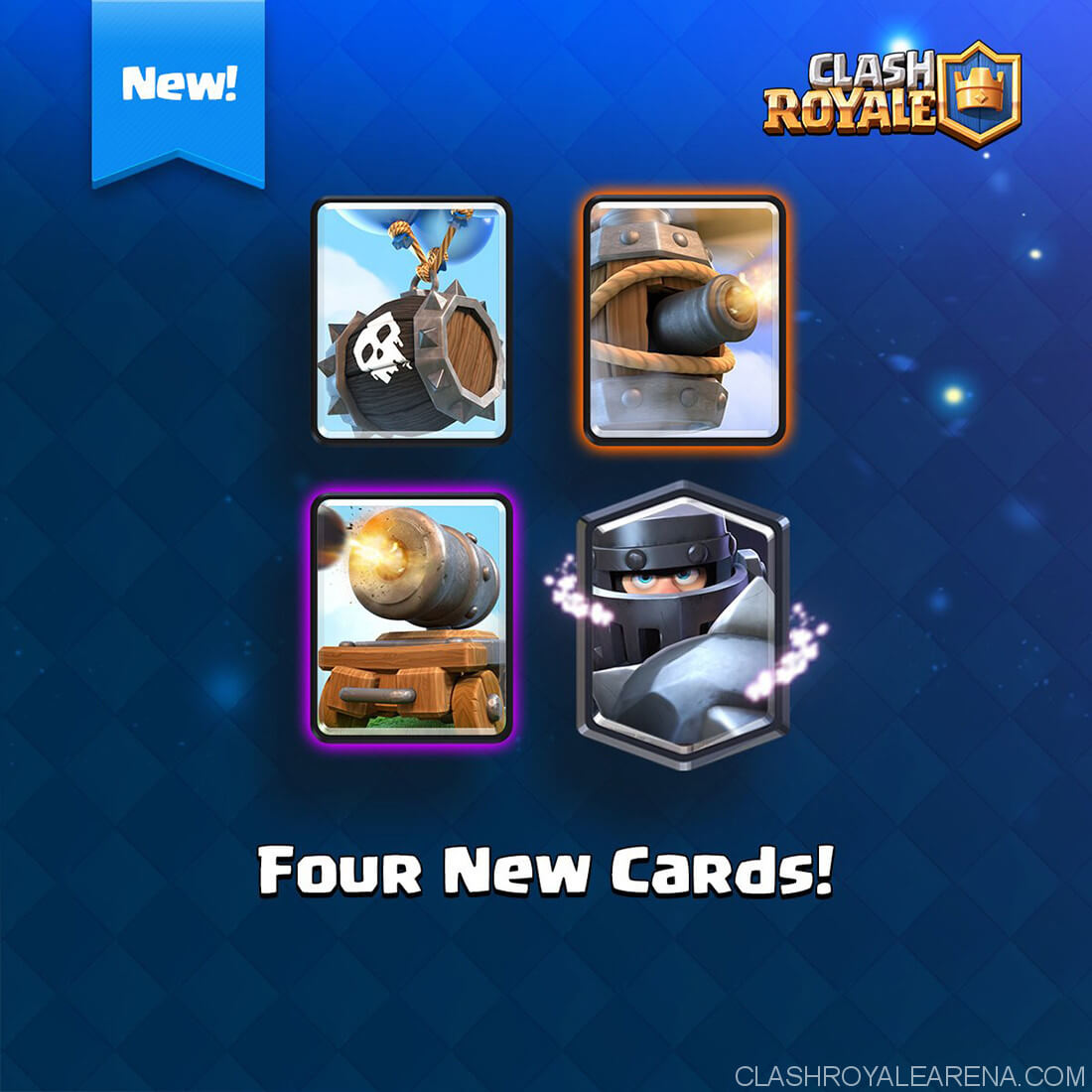 Clash Royale June Update with 4 New Cards!
Mega Knight, Cannon Cart, Flying Machine, Skeleton Barrel

As you can easily see in the image above, Mega Man is the new Legendary card, Cannon Cart is the new Epic, Flying Machine is the new Rare and the new Common is Skeleton Barrel!
Each card will come into the Arena with special Challenges.
Mega Knight
He lands with the force of 1,000 mustaches, then jumps from one foe to the next dealing huge area damage. Stand inside!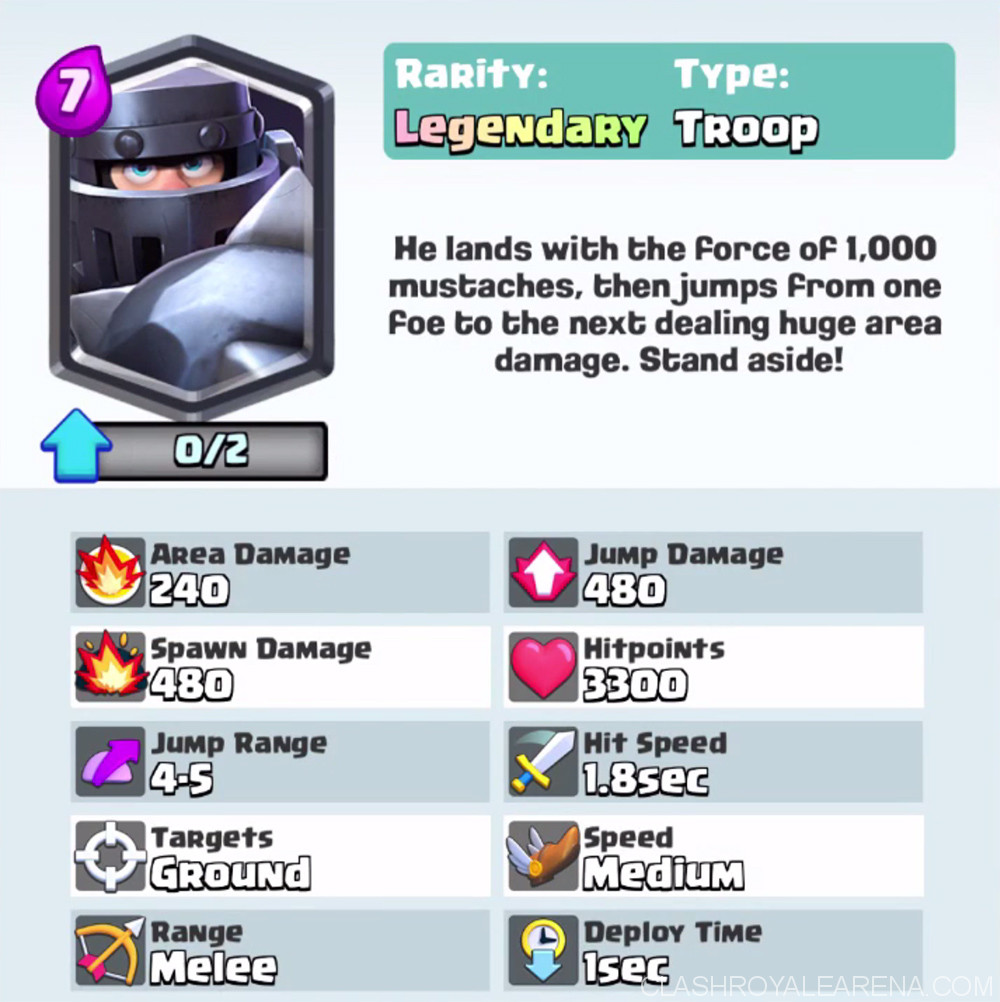 Basically he has slightly more HP than the Lava Hound (wut wut?) and costs 7 Elixir.
His movement speed is medium and his attack speed is exactly like the P.E.K.K.A.
When summoned, he makes a ground jump, dealing 480 damage. Paired up with The Log, you can use him to deal with Electro Wizard, Musketeers, Wizards, Barbarians, Witch etc.
Similar to Dark Prince, he deals frontal splash damage and targets ground only.
His jump ability is pretty similar to the Bandit, giving him x2 damage, except he leaps in the air. Also, his charge time is vary.
Cannon Cart
A Cannon on wheels?! Bet they won't see that coming! Once you break its shield, it becomes a Cannon not on wheels.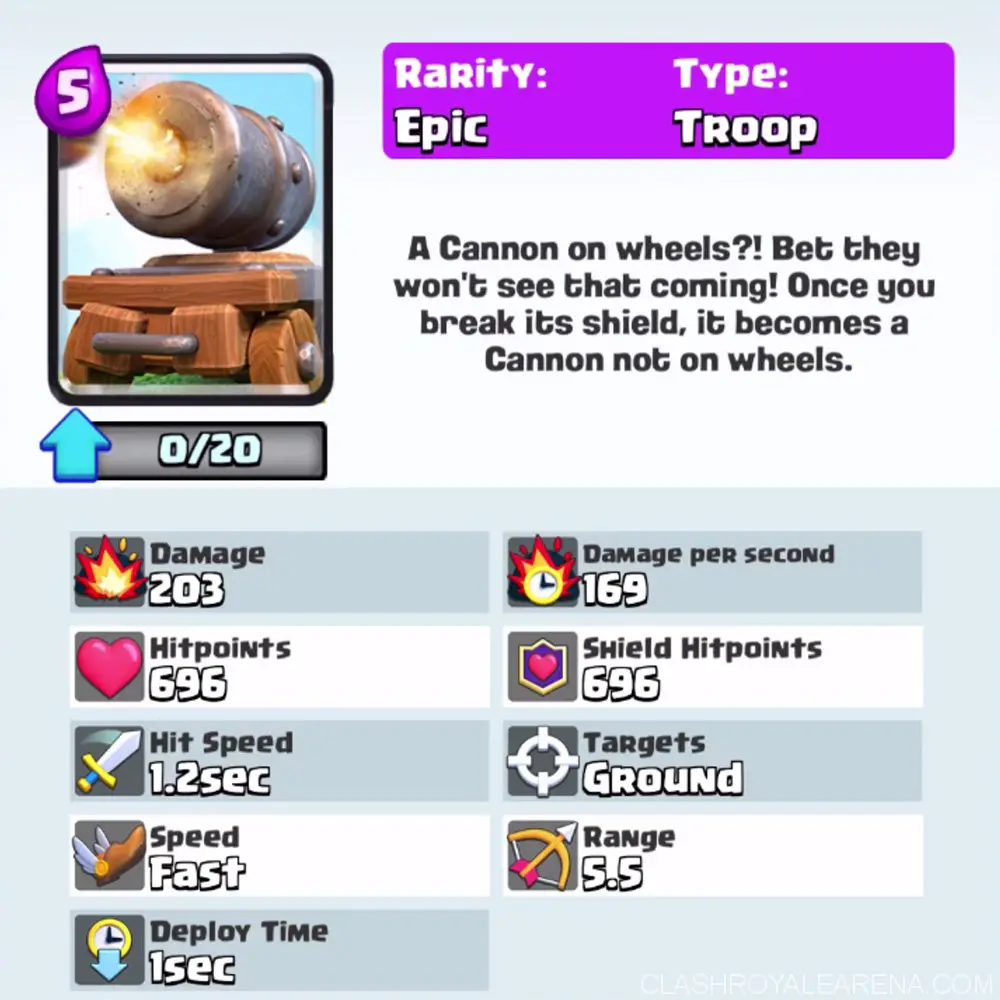 This one is super interesting!
It costs 5 Elixir and it is not a building (until its shield falls off). It has 696 Shield HP and 696 HP, both will survive a Fireball.
It targets ground units only and has the same attack range as the Ice Wizard. It cannot one shot Goblin, Archer or Princess.
Flying Machine
The Master Build has sent this first contraption to the Arena! It's a fast and fun flying machine but fragile!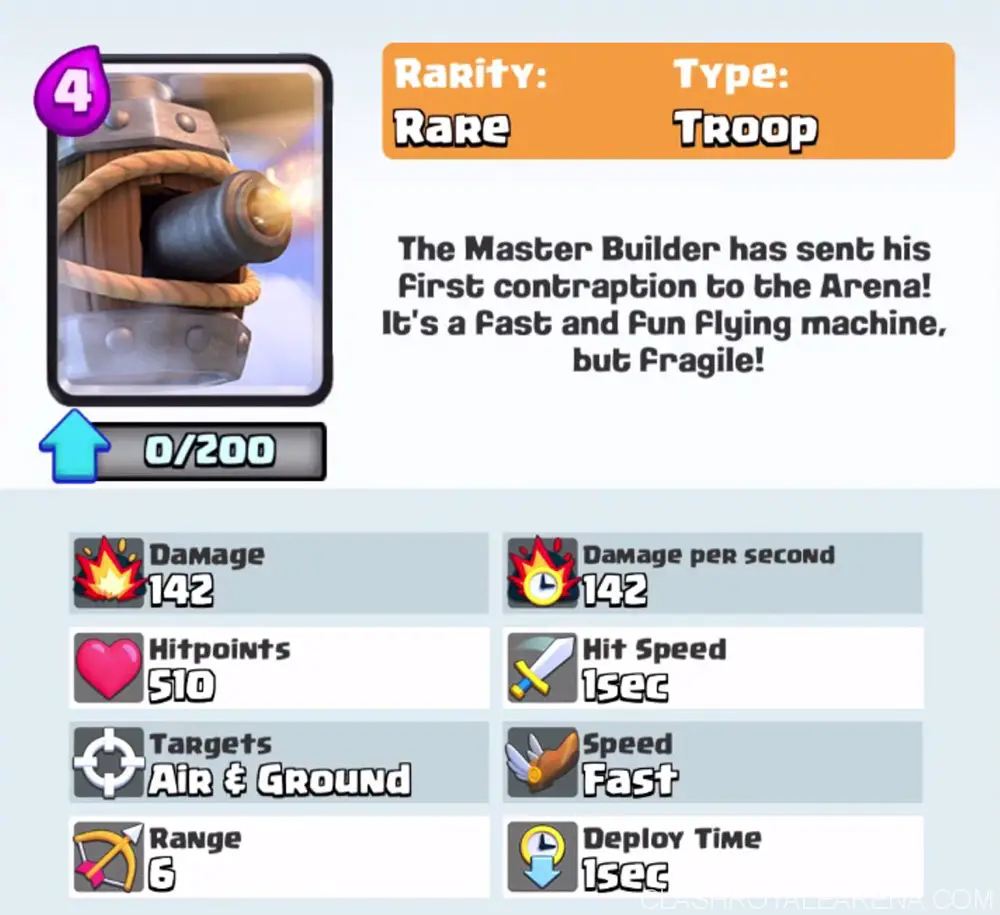 Air defense, is that you??
Flying Machine dies to Fireball so it's ok If you want to take it off.
With the attack speed and movement speed, it's pretty okay on building counterpushes.
With the attack range of 6 tiles, it will be able to assist your Giant and snipe the Inferno Tower from far away safely.
Its damage is very similar to Baby Dragon, which is not enough to kill Goblins but Spear Goblins.
Air Defense
Skeleton Barrel
It's a Skeleton party in the sky, until all the balloons pop… then it's a Skeleton party on the ground.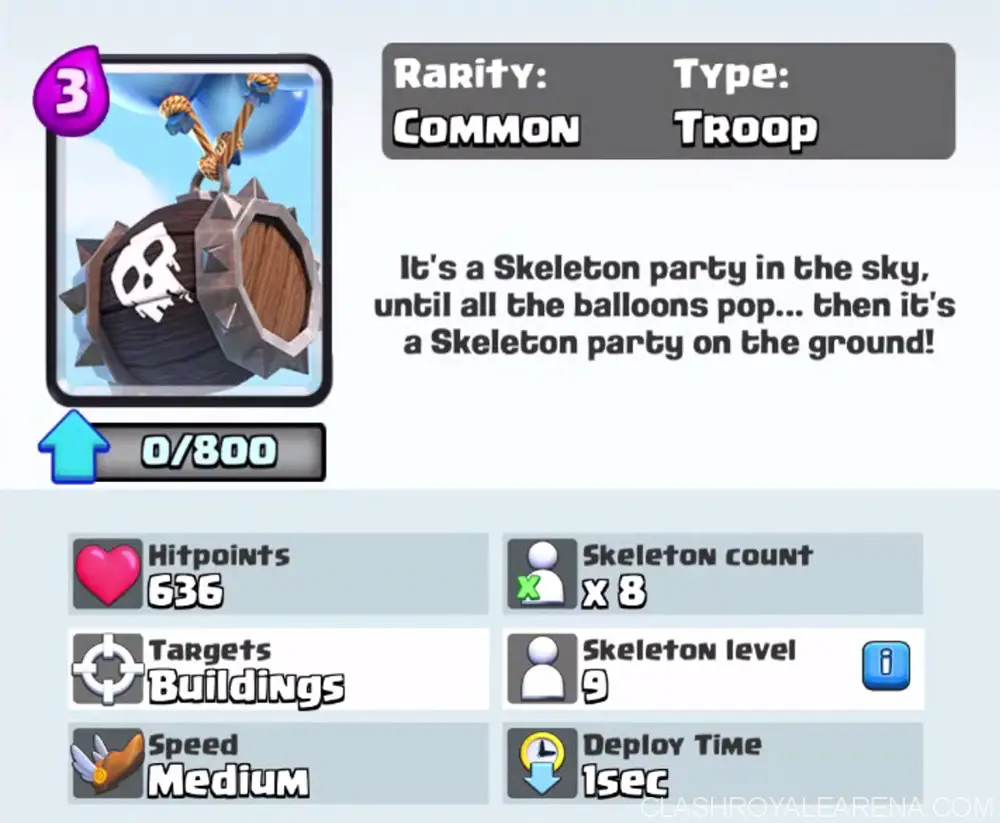 The Skeleton Barrel is kinda a Battle Ram! Battle Ram spawns Barbarians and Skeleton Barrel spawns Skeletons.
It targets buildings only. Once it hit the Tower, it will release 8 Skeletons.
Skeleton Barrel survives Poison. Its movement speed is as fast as the Balloon. So it doesn't require an immediate attention.
Leaked gameplay
Bonus:
New Challenges: "Sudden Death", "Ramp Up" and "Triple Elixir"
Keep an eye out for the golden notification on the Tournaments tab!
Thanks OJ for the super informative video as always!
Bonus: New Effect for Legendary Card Opening
So, what is your favorite card? Mega Knight, Cannon Cart, Flying Machine or Skeleton Barrel?